SOUVENIR SNOWGLOBE
This tutorial was created and put online on June 1, 2002.
Please do not copy or place this tutorial or any of the graphics on any site, or send it through email.
Groups can freely link to it.
I don't have the time to assist people doing this tutorial, but if you have problems downloading the supplies needed, please email me.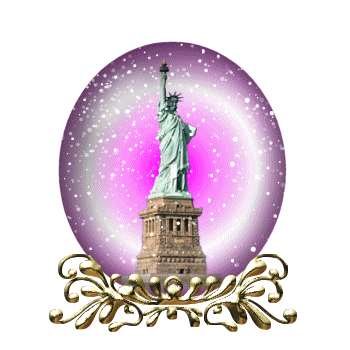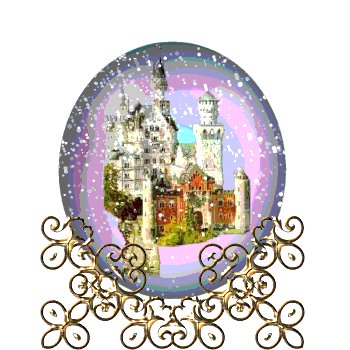 The very reason I ever started my Paint Shop Pro experience were snowglobes!
I love them a lot and used to collect them from any site giving them as gifts. Many of them were fabulous, but I never found the kind I was looking for: a souvenir snowglobe, the very cheap kind you buy in kiosks when you visit a famous place, and you bring back home to remember this wonderful moment.
That's why I decided to make my own globes and tried all sorts of tutorials. There are many online, and I found them useful, but after a while I developed my own way, the simplest I think.
And of course I use snow, as in real souvenir globes!
This tutorial is rated

according to the FBNG's Skill Level Standard
For this tutorial you'll need:
- Paint Shop Pro, get it here
- a monument tube, (you can find castles here and other monuments here)
- my globe and base, and the snow tube, get them here
Let's begin!
Remember to save often!
1) Open myglobenbase.psp , you'll see marching ants , keep the bubble selected!
2) add a new layer, layers/arrange/send to bottom
3) Click on your tubes tool and find the monument you want to place inside, click in the middle of the bubble (make sure your bottom level is active), and use your mover tool to adjust.
4) New layer, layers/arrange/send to bottom
5) Choose your gradient to put in the background, I chose neonpink, sunburst, Hor and Ver 50 , Repetitions 0, invert gradient unchecked
6) Layers/merge visible, on the layer palette, rightclick on the merged layer and rename it: 1
7) Layers/duplicate,rename it 2, layers/duplicate , rename it 3 (you must have 3 layers)
8) Turn off visibility of layers 2 and 3. Highlight layer 1, click on your tube tool and choose the snow tube you have downloaded. Click inside your bubble to put snow (not too much, just click 2 or 3 times)
9) Turn off visibility of layers 1 and 3, highlight layer 2, put snow inside the bubble.
10) Turn off visibility of layers 1 and 2, highlight layer 3, put your snow.
11) Turn on visibility of all layers, save as globe.psp
12) Go to File/Jasc software/open Animation Shop. In your Animation Shop go to Preference/General Program Preferences/Layered files - make sure the first, second and last options are checked.
13) Animation Wizard: First window: animation size as the first frame, second window: color transparent, third window: top left corner, content of preceding frame, fourth window: yes repeat, 20, fifth window: browse to your globe.psp
14) Animation - view, save it as gif
YOU'RE DONE!
Thanks for trying my tutorial :)
Tutorial Copyright ędani 2002