Multiple frame
This tutorial was created and put online on June 10, 2002.
Please do not copy or place this tutorial or any of the graphics on any site, or send it through email.
Groups can freely link to it.
I don't have the time to assist people in doing this tutorial, but if you have problems downloading the supplies needed, please email me.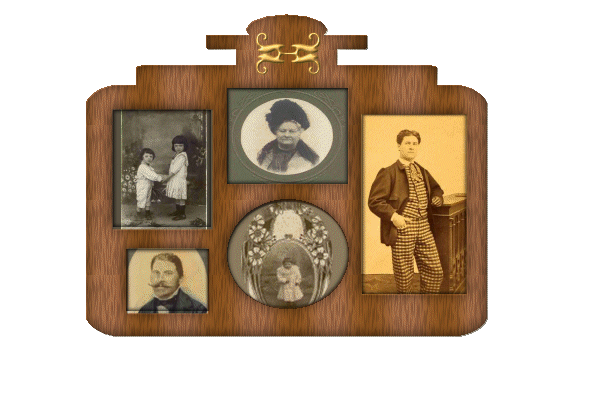 I had the idea for this tutorial watching the old wooden frame I have in my living-room framing my ancestors (the people you can see in the picture) and I thought it would be nice to do it using Paint Shop Pro.
You can make the old style frame , but you can also choose to give it a fancier look using a colorful texture to display the photos of your kids and family or just your tutorial results as I did here: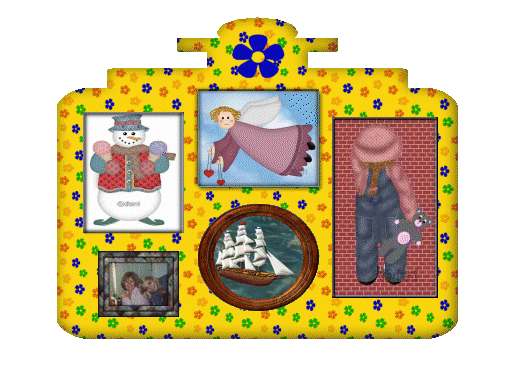 This tutorial is rated

according to the FBNG's Skill Level Standard
For this tutorial you'll need:
- Paint Shop Pro, get it here
- my selections, download them here and save into your folder
- my wooden or my yellow patterns, or use your own. Open them in psp, then minimize:


Let's begin!
1) Open a new image, 600 x 400, transparent
2) Go to View - show rulers, set your foreground to nul, background any color
3) Click on your preset shapes tool and choose rounded rectangle. Draw a rectangle starting from coordinates 100,100, and drag your mouse till 500, 350 (look at the bottom left corner for your coordinates). Floodfill with the pattern of your choice, if you use my wooden pattern, set the angle to 90
4) Same level. Go to Selections - load from disk, load multiframetop. Floodfill with the same pattern. Keep selected
5) New level. Go to Effects - cutout. Use these settings: Hor and Ver 2, Opacity 65, Blur 20, Color black. Repeat changing Hor and Ver to -2, deselect
6) Highlight level 1. Go to Selections - load from disk, load pic1. Selections - modify - expand by 1. Edit - delete. Deselect.
7) Repeat step 6 for pic2, pic 3, pic 4, pic 5. (load from disk, expand by 1, delete)
This is your image so far: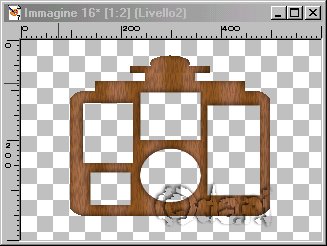 8) Click in the middle of one of the holes you have just made, you'll see marching ants around it. Open one of the images you want to display. Edit - copy. Go to your frame edit - paste into selection. Selections - invert. Effects - drop shadow, use these settings: Hor and Ver 2 Opacity 57 Blur 4.9. Color black. Repeat drop shadow changing Hor and Ver to -2. Deselect
9) Repeat step 8 for each of your pictures
10) New level. Decorate the top of the frame with a tube of your choice or using one of your preset shapes (as I did in both examples)
11) Layers- Merge all
YOU'RE DONE!
Thanks for trying my tutorial :)
Tutorial Copyright ędani 2002